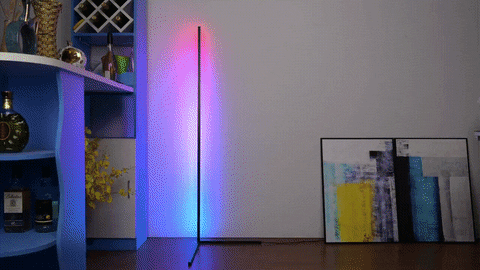 The Atmo Corner Lamp is a minimally designed, space-efficient lamp that is able to fit perfectly in corners for bedrooms, living rooms, dining rooms, offices, or even a guest room
The minimalist style features a soft-white tone with integrated LEDs that provide continuous hours of customized illumination to your space
With the compact and user-friendly remote control included (requires 2 x AAA batteries, not included), you can browse through over 16+ million colors and over 300 multi-color effects to find your perfect choice
Designed with a high level of craftsmanship, the quality metal finishes alongside with a weighted rubber base ensure a safe placement, making a bold yet simple statement in any space
One remote control can control more than 2+ lamps!
Measures at 55"L x 16"W x 16"H and weighs 3.3 lbs
12 Month Jaunter Warranty Included
TECHNICAL SPECS:
Voltage: 12V
Bulb Type: LED
Cord Length: 6'5"
Dimmable: Yes
Wattage: 20W
Lumens: 1512-1680LM
Bulb Lifetime: 50,000 hours
Color Rendering Index: LED Dimmable 
Can it take 220v or just 110v?
It is 110-220v capable, with an AC adapter and a wall plug.
Do you know if it retains its most recent color/brightness settings if powered off then back on?
Yes, it will retain its most recent color/brightness settings.
Are the bulbs exposed on the backside?
No, the bulbs are not exposed on the backside.
Which side does the cord come out of?
The cord is on the right side. 
Is it compatible with Alexa, Google, Apple Home?
No, it is not compatible with Alexa, Google Home, or Apple Home.
Are bulbs replaceable?
The LED is embedded. It is not replaceable but normally lasts 50,000 hours.
Does this put out any heat? How far from furniture do you recommend?
It emits barely any heat. You can put it close to the furniture, if you want.
Does it light up a room like a floor lamp would?
Yes, but if you put the light source toward the corner of the wall, it might not be as bright as a traditional floor lamp.
Is there an app that can control this lamp?
No, there is no app that can be used to control the lamp.
Does it change colors?
Yes, you can use the remote to change colors.
Is it dimmable?
Yes, it is dimmable.
Is the vertical member one piece and not a two piece connection?
It is a one-piece connection, but it is remotely controlled. The remote control can control 2 or 3 lamps at the same time. Hence, you don't have to connect each lamp together.
How do you turn it on and off?
You turn it on and off with the remote control.
Does it only have have colors or can it do white light?
The easy to use remote control makes it simple to shuffle through 16+ million colors and 300+ multi-color effects to find your perfect lighting.
Can it be powered by a 12 volt source, opposed to adapted 120 volt?
Yes, you can use 12V, 2 A, or 3A volt source.
How tall is it?
It is 55" inches tall.
If you get 3+ lamps, will one remote control all of them?
Yes, you can control all lamps with one remote control at the same time.
We process orders between 1 - 3 business days. Ships in 1 - 2 weeks. 
COVID-19 Notice: Our shipping times may be longer than indicated as changing COVID-19 restrictions affect delivery services. Know that our fulfillment teams continue to send product daily as we take extra precautions to ensure their safety. Thank you for your patience and understanding.
Our Return Policy:  
Jaunter has a strict 30-day policy for any and all returns/exchanges. The customer must send an official ticket inquiry within the period stated to be eligible to claim Jaunter's Return/Exchange Policy. Should the 30 days pass since receipt of item/s according to the tracking number provided to the customer by Jaunter, the policy shall be deemed null and void.
Items in question for return/exchange must be unused, sealed, in the same condition upon receipt of the package. Customers must also return the original packaging of the item.
Partial Refund & Store Credit Policy:
Item/s not in its unused and original condition.
Item/s damaged or with incomplete parts for reasons not due to Jaunter's error
Item/s returned to sender due to inability to be delivered. Shipping cost will be deducted from total refund balance. Refund processing will begin once the package has been received by our warehouse.
Misinterpretation of product listing despite clear indications for regular priced items
Non-refundable:
Item/s purchased with the following:
Gift cards
Discounted items
Promotional codes
Proven attempt of delivery of package resulting in failure due to misinformation given by customer (e.g. incorrect/incomplete address). Jaunter relies solely on information given by the customer, and trusts that all information provided is true and accurate. Jaunter shall not be liable for inability to deliver any and all packages due to incorrect shipping information provided by the customer.
Order Cancellation:
Only orders that have not been processed can be cancelled.
Jaunter can no longer cancel an order once package has been processed and shipped. 
Once an order has been shipped, Jaunter can only process a refund when the package has been sent back to our warehouse.
Change of mind is not valid for cancellation once order has been shipped.
Jaunter relies solely on our logistics partners. Due to logistical delays beyond Jaunter's control; some orders may have minor delays. Jaunter cannot cancel an item due to delayed shipment.
Process for Return:
Review the refund policy to determine eligibility of item/s.
Step 1: Send us an email stating item/s subject for Refund/Exchange at support@jaunter.co
Step 2: Please await confirmation of the refund amount that the item/s qualify for (depending on reason for return, and item/s in order).
Step 3: Jaunter will provide the return address and shipment labeling instructions. This step is necessary!
Step 4: Please ship the item subject for return/exchange at your own cost. We cannot cover the cost of the return shipping nor provide pre-paid labels. Kindly print out the order confirmation email and include it in the return package.
Step 5: Notify us via email at support@jaunter.co that you have accomplished steps 1 through 5 and provide us with the shipping company used and tracking number (very important!)
Step 6: Jaunter will process the refund/return within 10 business days after receiving the returned items.
Refunds (if applicable)
Once the package subject for return has been received and inspected, Jaunter will send a notification through email regarding approval or rejection.
Should the refund be approved, it will be processed through the original method of payment. Processing will depend upon the method of payment's service provider.
Late or Missing Refunds (if applicable)
Please expect your refund after 10 business days. Should a delay occur, kindly contact your method payment's service provider. It could take some time before your refund is officially posted.
Should a delay persist after contacting your bank, please contact us again through email.
Sale Items (if applicable)
Only regular priced items are eligible for refund. Unfortunately, sale/discounted items cannot be refunded, and are subject to Final Sale.
Exchanges (if applicable)
Jaunter can only replace items that are proven defective and/or damaged, and proven unused and in its original state and packaging. Please send us an email at support@jaunter.co with attached proof and the following details:
Name and email address used in transaction
Order number
Sufficient pictures showing the defective and/or damage item/s